Presentations to Students
Roles and Functions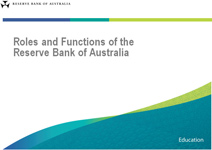 The presentation summarises the roles and functions of Australia's central bank.
Roles and Functions Presentation 1.3MB
Monetary Policy and Current Economic Conditions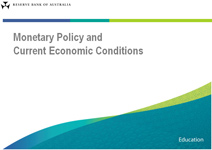 This presentation summarises the monetary policy framework and current economic conditions in Australia.
Graphs with forecasts are updated to 8 February 2018, cash rate is updated to 6 February 2018, and other data are updated to 1 February 2018.
Monetary Policy and Current Economic Conditions Presentation 824KB